Local: Chubby's Jamaican Kitchen
February 13, 2019
We might be biased, but we think Toronto is a pretty special place. In this series, we'll be sharing local gems – from beautiful spaces, to delicious restaurants, to inspiring people.
Whether you've lived in Toronto your whole life or only visited the city once, chances are that one (or more) of Janet Zuccarini's restaurants is on your list of favourite places to eat in the city. She's the restauranteur behind beloved local favourites Trattoria Nervosa, Gusto 101, and, most recently, Chubby's Jamaican Kitchen. We'll always love our Italian, but it's the latter that we can't stop raving about lately. And while the food is beyond delicious, our obsession might have a bit – ok, a lot – to do with the décor.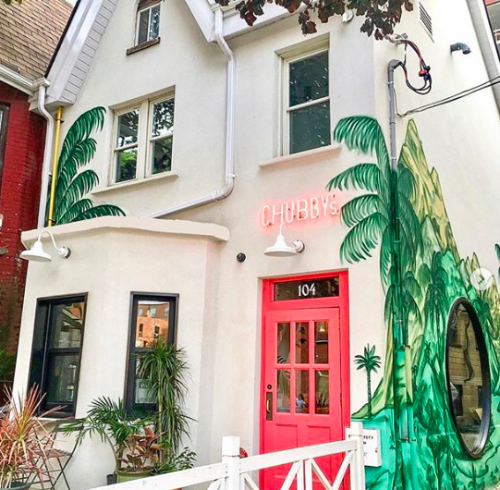 Chubby's opened its pink door last winter at King and Portland, right across the street from Gusto 101. Toronto architecture group Partisans and Los Angeles-based designer Wendy Haworth transformed a 19th-century townhouse into a tropical escape in the middle of the entertainment district.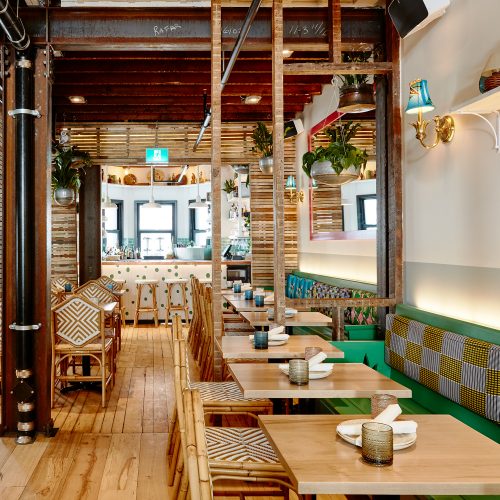 From the moment you step inside, you can feel that Chubby's isn't a typical King West restaurant – the vibe is warm, inviting, and totally unique. The exposed beams, natural wood floors, and varied textiles play into the low-key atmosphere and keep the space from looking too "done." We're particularly obsessed with the bamboo dining chairs, which were sourced from Indonesia.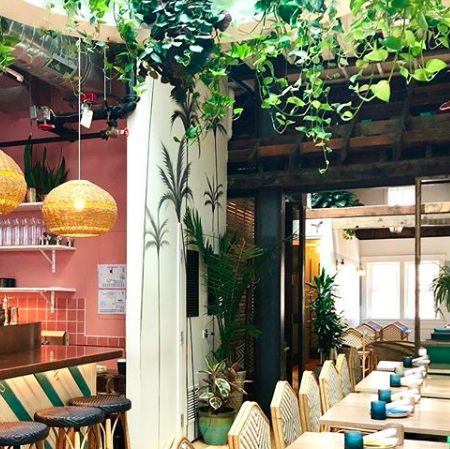 During the summer, ask to sit at one of the playful patterned tables on the backyard patio. Inside, an abundance of greenery helps maintain the island vibe all the way through long Toronto winters – the giant suspended planter that hangs from the ceiling makes it feel like you're dining in a jungle garden (it's also Instagram gold!). At least we can pretend we're actually in Jamaica!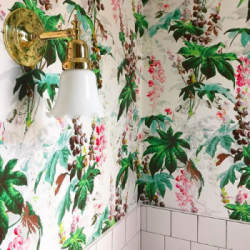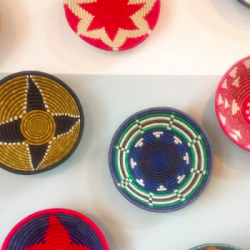 If you follow our work, you know we love to have fun with bold wallpaper (check out our post on that here), so it's probably no surprise that we're fans of how it's used at Chubby's. When you visit, be sure to check out the bathrooms – each one is papered with a different tropical print (we love the pineapples!). The designer also worked with the Chubby's team to incorporate thoughtful details into the space – from hand woven baskets to a gallery wall featuring photos of the teams' family members.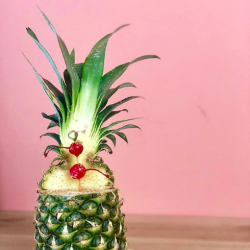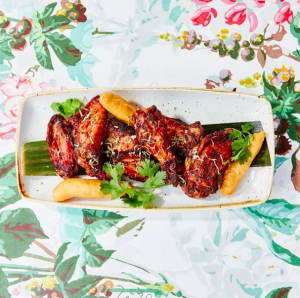 Finally, we couldn't write this post without raving about the food. Chubby's has a custom jerk pit, which makes the entire restaurant smell incredible and produces some truly amazing jerk chicken. We also love the fried okra, the kale and pomegranate salad, and the burger (be warned – it's spicy!). Chubby's is also a great spot for drinks – they have a fully stocked rum bar and delicious cocktails. We recommend the "calabash bay," which comes served in a fresh pineapple!
What local spots or services would you love to see featured in our Local series? Let us know in the comments!