10 Things: Favourite Kids Items from IKEA
October 7, 2019
We have recently been designing quite a few nurseries for our clients, which makes this the perfect opportunity to share some of our favourite Ikea accessories for your little ones. Ikea can be a daunting place to shop and can be hard to envision a chic, yet functional room for your kids when all of the baby stores cost a fortune. Ikea has some great options for nurseries, especially in terms of accessories and we find the key is to not limit your search to just the kids section. There are some amazing finds throughout the store that work for kid's rooms too.
These finds will help show you that you can create a warm and modern look in a nursery, kids room or even playroom. Kids furniture can get pricey quick, so sourcing accessories from Ikea can be a great way to save money. Plan ahead, take a look online and know exactly what you want. This will help make your trip much more enjoyable. We of course couldn't end this post without letting you in on our favourite Ikea tip. They now offer click and collect if you place orders online. For $5 you can pick everything up from your local store within a 2-4 hour time slot and avoid the Ikea grind.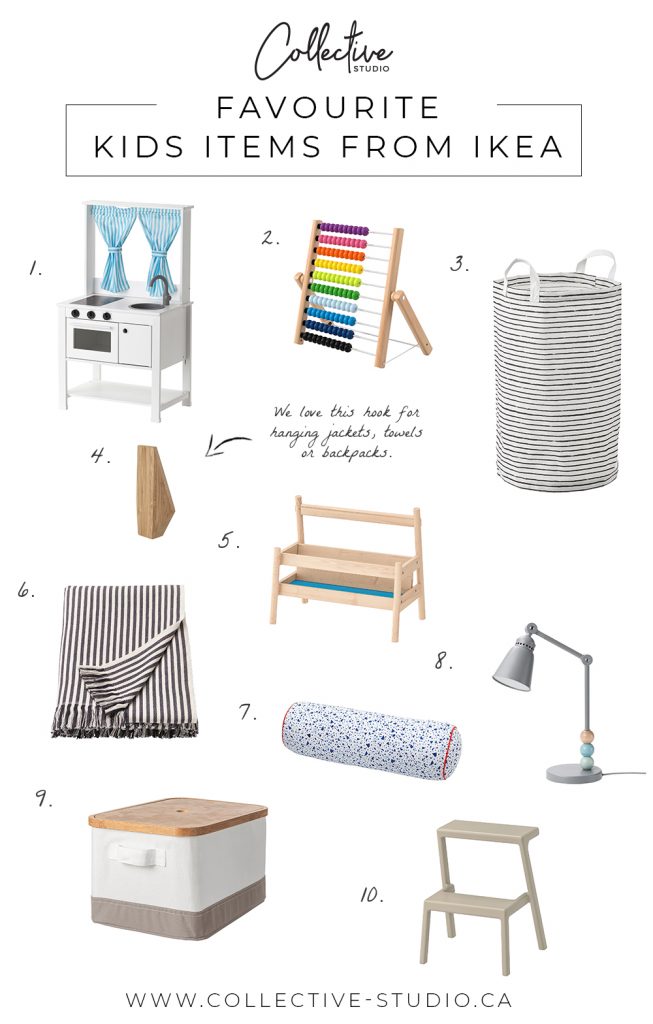 1. / 2. / 3. / 4. / 5. / 6. / 7. / 8. / 9. / 10.
1. Play Kitchen: The perfect play kitchen that can be paired with lots of kid-friendly cooking accessories. Not only is there a chalkboard on the back, but it can also be turned into a puppet theatre.
2. Abacus: This is one of our favourite toys for our kids. It looks great on a shelf to add a pop of colour, but is also a classic toy that helps to develop motor skills and logical thinking.
3. Hamper: We love the pattern and versatility of this hamper, which could also be used for toys. It is easy to store away in a closet, but also nice to look at if this hamper is left out beside a dresser or crib.
4. Hook: This minimalistic hook brings a warm, soft feeling into the room. We love the look of 3 or 4 hooks in row to hang bags and costumes. No visible hardware is always a plus with kids!
5. Book Display: This sleek book display doesn't only look great in your little ones room, but provides functionality as well. The low display allows kids to easily reach their books. All books are visible, making it simple to pick their favourite. Bonus – it can also double as a doll crib.
6. Throw Blanket: Need some pattern added to your baby's nursery? This throw blanket will be sure to make a statement over a glider or crib. Not to mention, it is super soft and made from renewable materials.
7. Pillow: We love this pattern! A great choice for a decorative cushion to add to a reading nook or bed. The room will feel extra cozy and inviting and it's a back saver for parent's during story time.
8. Lamp: The perfect lamp for your little one, which is tested and approved for kids.The arm and shade are adjustable, perfect to have on a desk for colouring or doing homework or on a bedside table for reading.
9. Storage Box: We love using these to dress up the inside of our kid's wardrobe or store their toys on open shelving. A great way to make open storage solutions more attractive and comes in a variety of sizes. It's also helpful being able to transfer toys from shelf to play mat / area and makes cleaning up a breeze.
10. Stool: This step stool is nice to look at and easy to tuck away. It is lightweight and easy move, yet sturdy and stable for your little ones to safely maneuver.
What are your favourite Ikea finds for kids? Let us know in the comments!