10 Things: Interior Design Coffee Table Books Worth Buying
February 8, 2019
We often get asked for suggestions on how to accessorize and style a room on a tight budget. One of our best tips is to head to your local bookstore (ahem, online is often cheaper). Investing in a few beautiful coffee table books is a quick and relatively inexpensive way to add colour and style to a space whether they are displayed on a coffee table or on a bookshelf. A bold, eye-catching cover or spine can add a fresh pop of colour to a room or serve as a great conversation starter. Books have a unique ability to show off your personality and interests and make your home feel like "you."
While we love coffee table books for looking beautiful, it's also important that their content is up to par. But with the thousands of coffee table books out there, it's hard to discern which are worth the money (and it's a major arm workout to flip through some of them!). Luckily, we have a few well-loved favourites that we're happy to share. Since we obviously have a serious love of beautiful spaces, our favourite coffee table books are often about interiors, architecture and design. These picks will look stunning on your coffee table and on your shelves and will offer you page after page of design inspiration, DIY hacks and house envy. Enjoy!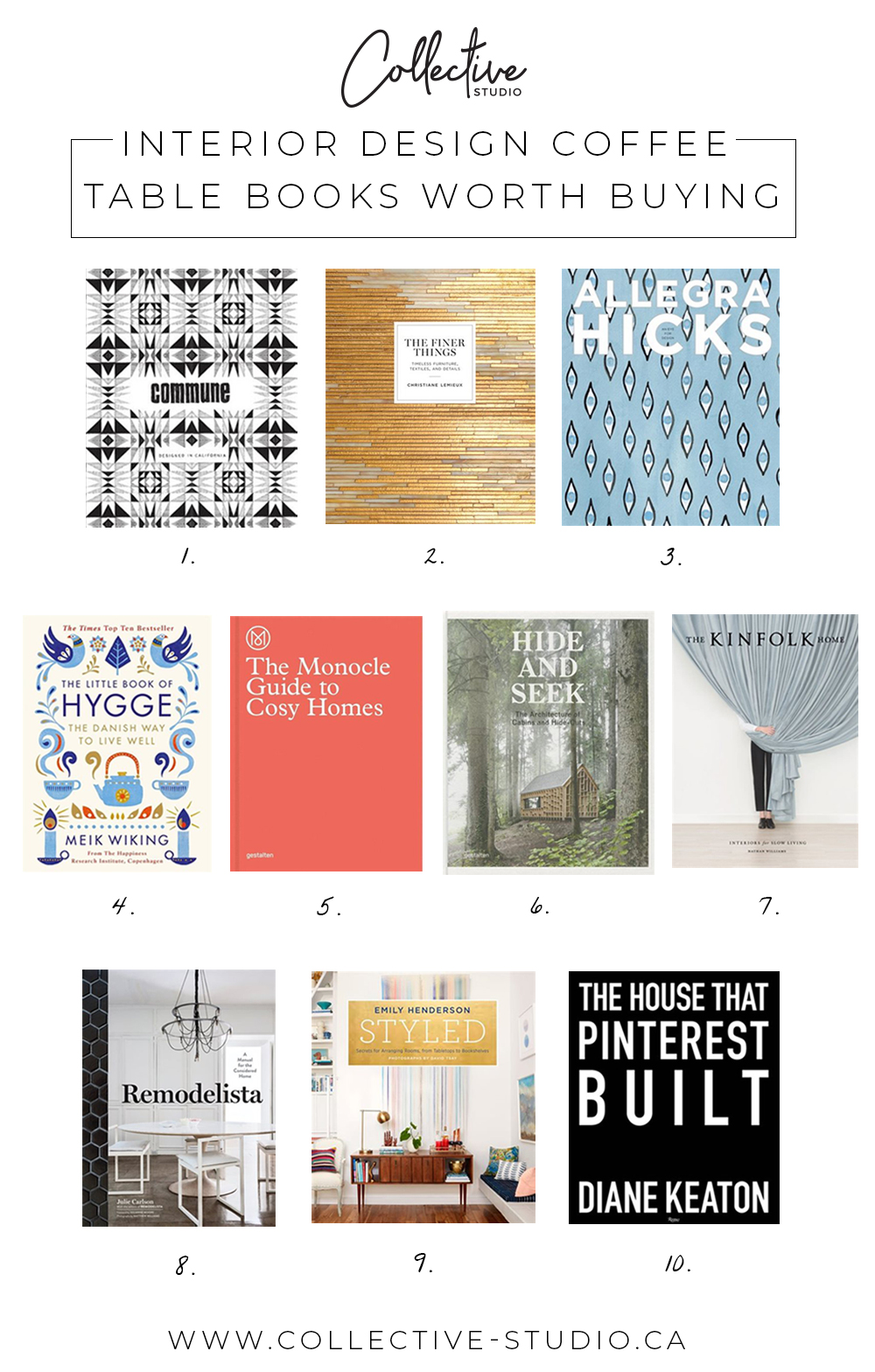 1. Commune: We love the way this book looks sitting on a coffee table, but we love the bohemian, eclectic designs inside even more. And, honestly, who isn't looking to add more California style to their life?
2. The Finer Things: Everything about this book is screams luxury – from the title, to the metallic gold cover, to the glossy photos inside. The author interviewed artisans and specialists known for being the best of the best in their respective craft to help readers source special pieces that will last a lifetime.
3. An Eye for Design: This book is for anyone who loves pattern or who is trying to add more colour to their home. Textile designer Allegra Hicks uses photos to map out the inspiration behind her bold creations.
4. The Little Book of Hygge: This wildly popular book is centred on bringing the Danish concept of Hygge – which is essentially finding coziness and comfort in your surroundings – into your home and life. As homebodies, this is definitely a movement we can get behind!
5. The Monocle Guide to Cosy Homes: This book provides major home inspo, but also includes resources and practical tips to creating your own dream home.
6. Hide and Seek: If you've followed us for a while, you'll know there are few things we love more than a beautiful cabin. This book shares some seriously enviable cabins that feel both cozy and modern.
7. The Kinfolk Home: This book is unique in that it looks at how our personal ideals and values can shape our living space, and vice versa. It includes gorgeous photos of homes around the world as well as thoughtful design insight from their owners.
8. Remodelista: A must-have for anyone who is a fan of Pinterest or DIY – if you haven't visited the Remodelista website, you're missing out. This book breaks down their top tips for creating classic, timeless rooms while staying within your budget.
9. Styled: This books is a great resource if you find yourself feeling bored in your home and want to change things up without doing a major reno. It focuses on removing clutter (not quite at the Marie Kondo level) and showcasing the things you love to create a fresh feel in your home. Who doesn't love Em Henderson!?
10. The House That Pinterest Built: There's something amazing about knowing that author (and icon) Diane Keaton spends hours scrolling through Pinterest just like us. This book chronicles the best things she learned on the site while building her insanely stunning home. Fashion and design icon!
What's your favourite coffee table book and which are you dying to check out? Let us know in the comments!