Get The Look: Project Rushton Back Entry
March 15, 2019
We're so excited to share this sneak peak of Project Rushton – a.k.a. Jordy's home! We'll be posting more photos and design inspo from this project, but today we're kicking it off by focusing in on one of our favourite spaces in her home – the backdoor entryway.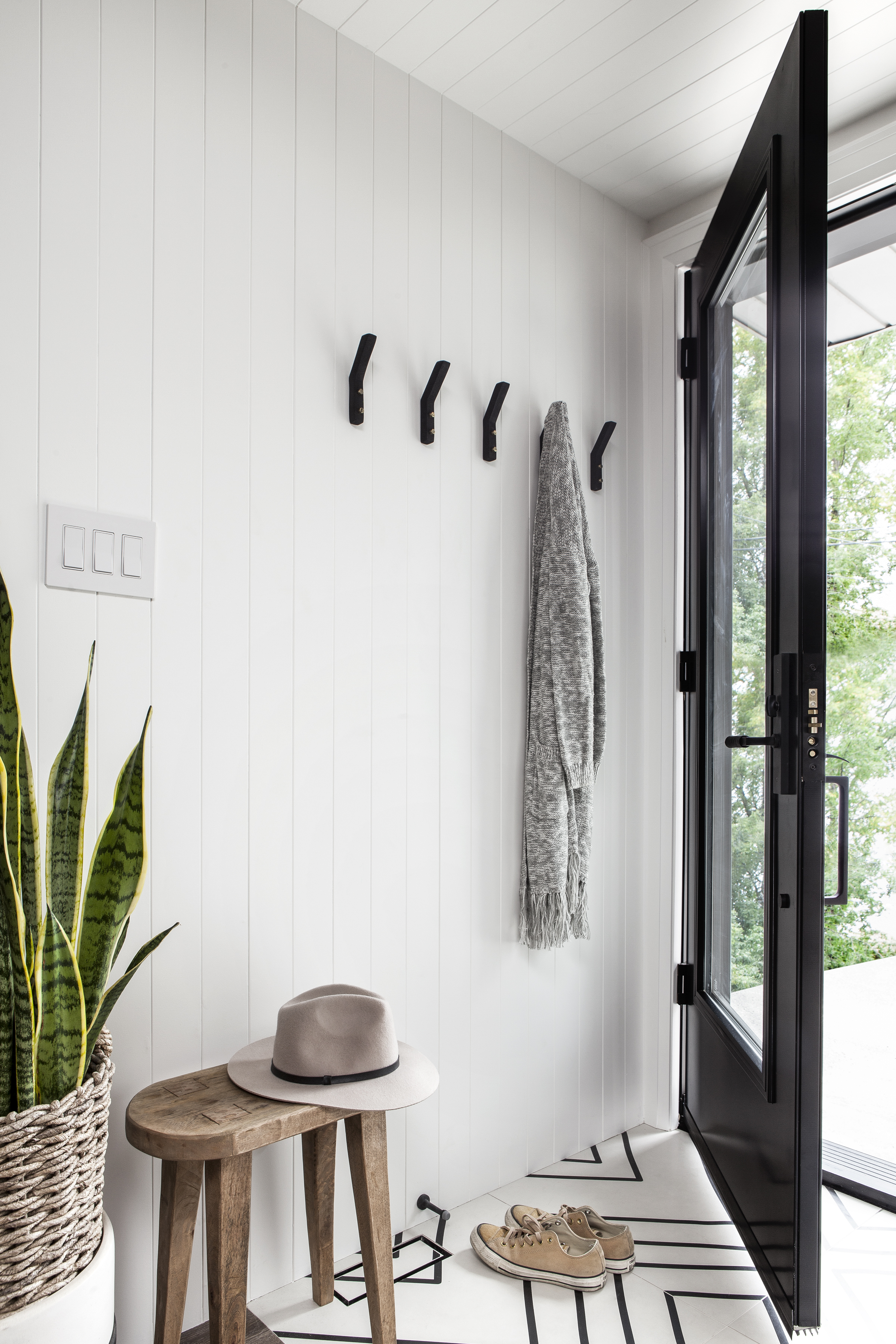 As is common in Toronto, Jordy and her family use their home's backdoor just as much as their front. Getting out of the house with twins is a process within itself, so it was very important that the area around the door remains clean and clear of clutter. For that reason, we avoided adding too much furniture, and instead used contrasting shades and thoughtful accessories to add style and personality. Not visible in the photo are shoe cubbies built into a knee wall. This is a trick we love to use as it keeps shoes off the floor – it's even more convenient for a back door where you are often slipping on shoes to BBQ or take out the trash. The vertical Metrie panelling on the walls and ceiling adds depth and interest but also durability in the high traffic area!
Adding wall hooks provides a place to hang jackets without taking up the valuable space that a cupboard or large bench would. We love how sleek and modern these matte black hooks look – especially against the white walls, which are Benjamin Moore's Simply White. We kept the door hardware consistent to what was used throughout the home and went with a matte black mortise lock and hammered lever combo from Emtek. We absolutely love the monochromatic look of it against the black door and the mortise function locks the door automatically… one less thing to worry about when lugging 2 heavy carseats out the door.
The black and white tile we chose really ties everything together. We love patterned tiles, but many of our clients are worried that they'll get sick of something bold. Choosing a pattern in neutral colours, like we did here, is a great way to make sure this doesn't happen. The exact porcelain tile we used is from Mettrosource, but it's not online so we've linked porcelain and cement lookalike options for you. We loved how the large scale of this tile fit the small space perfectly (four tiles to complete one pattern repetition).
Even though the stool looks handmade, it was really a very lucky Target find. You can find a similar one on our board below or even on Etsy. It's the right size for placing an item or two, but small enough that it won't end up serving as an unintentional place to stack everything in a giant heap (key to keeping clutter to a minimum!).
We love snake plants because they're easy to care for (i.e. it won't have brown, shrivelled leaves within a week) and they can supposedly help to purify air. The plant stand was another lucky find – this time from Homesense. You can get the look by using a basket as a planter and then either stacking in on top of a white stand or layering it inside a larger white planter.
Want to get the Project Rushton look in your home? We've put together some of our favourite pieces inspired by this space below: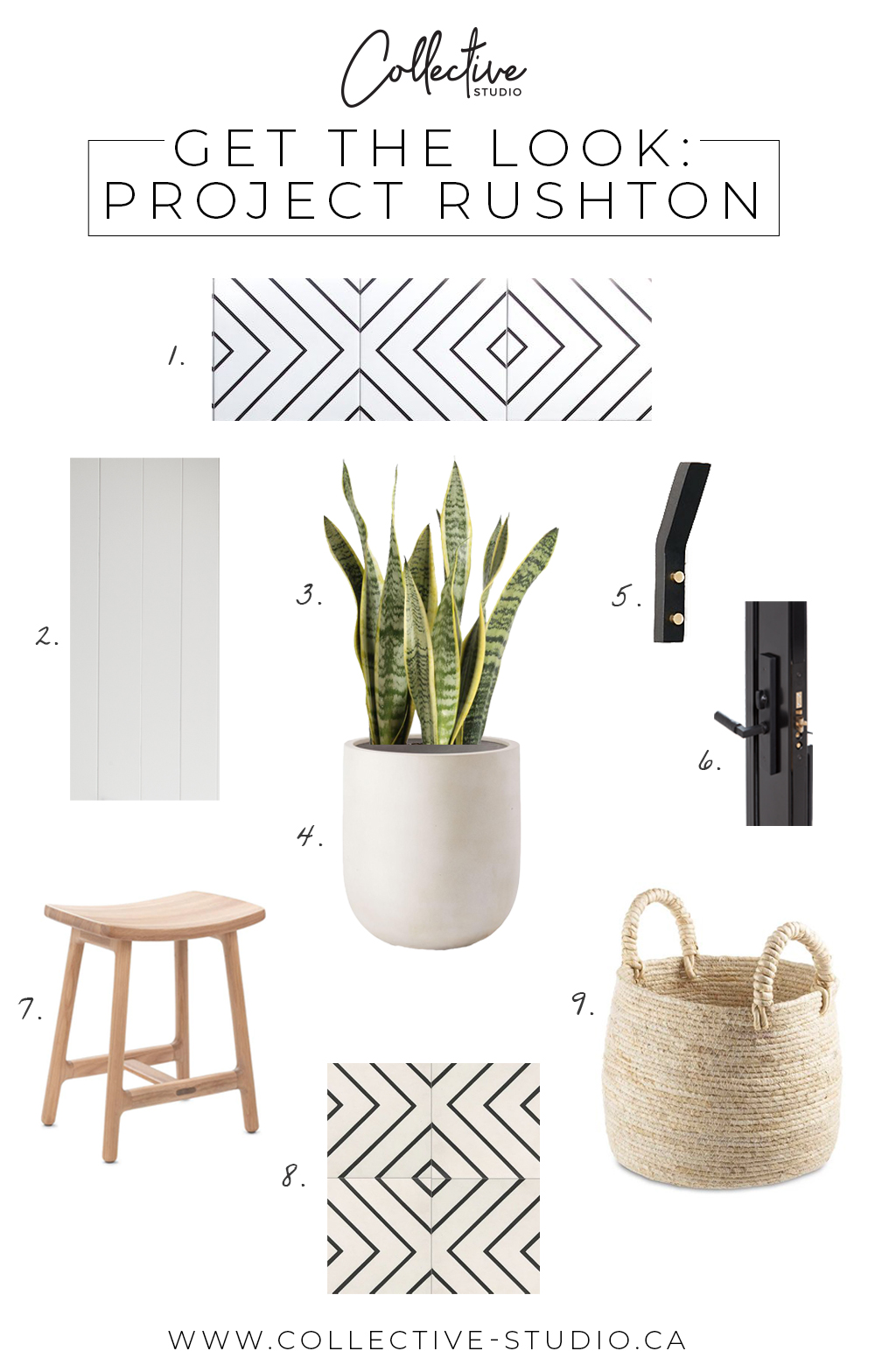 1. / 2. / 3. / 4. / 5. / 6. / 7. / 8. / 9.
As a designer, there is truly nothing more challenging than designing your own home. But now that we're on the other side, we can't wait to share more of Jordy's home with you!
Let us know what you want to see next in the comments!