Collective Covets: What's In Our Makeup Bags
December 19, 2018
Whether you stick to tried-and-true favourites like Jordy or search for clean versions of everyday essentials like Alana, there's something so satisfying about finding the perfect products for your beauty routine. Since we're always curious which products the women in our lives can't live without, we're sharing ours with you!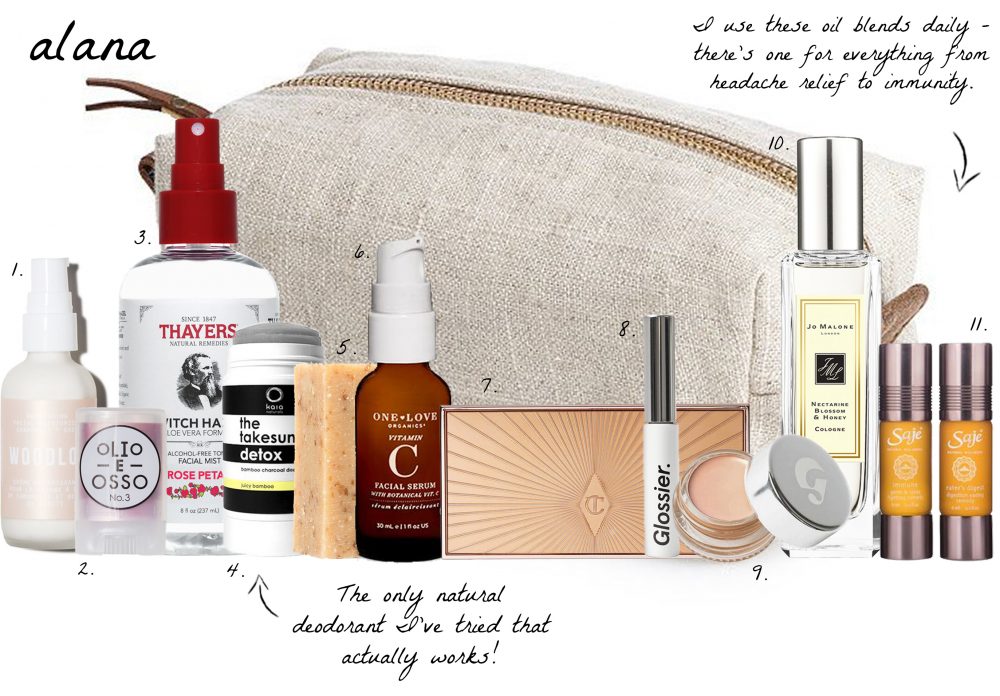 1. Moisturizer: This moisturizer is made with clean, natural ingredients and keeps my skin hydrated even during Toronto's dry winters.
2. Tinted Balm: The perfect mix between a lipstick and a balm – it's hydrating enough for daily use but still gives a tint of colour.
3. Toner: This classic witch-hazel toner helps keep my skin clear. The addition of rose makes it soothing (and it smells amazing!).
4. Deodorant: The only natural deodorant I've tried that actually works. Push through the "detox" phase – it's worth it in the end!
5. Soap: This soap is another change I've made towards using more natural products. It's made with honey, oats, and coconut and doesn't dry out my skin the way many body washes did.
6. Serum: Vitamin C helps brighten skin – which is necessary when you live through Canadian winters. I love the glow this serum from One Love Organics gives me!
7. Bronzer/Highlighter: This compact is pricey, but it lasts forever. The bronzer and highlighter are glow-y without being too shimmery and they look great in photos!
8. Boy Brow: Everyone's favourite product for a reason. It keeps my brows in place without feeling sticky or waxy and is so easy to apply.
9. Concealer: I love this concealer because it covers everything – blemishes, under-eye circles, and redness – but stays invisible on my skin.
10. Perfume: Jo Malone has tons of beautiful scents, but this one is my favourite. It's fresh, not heavy, and lasts all day.
11. Essential Oils: I use these oil blends daily – there's one for everything from headache relief to immunity.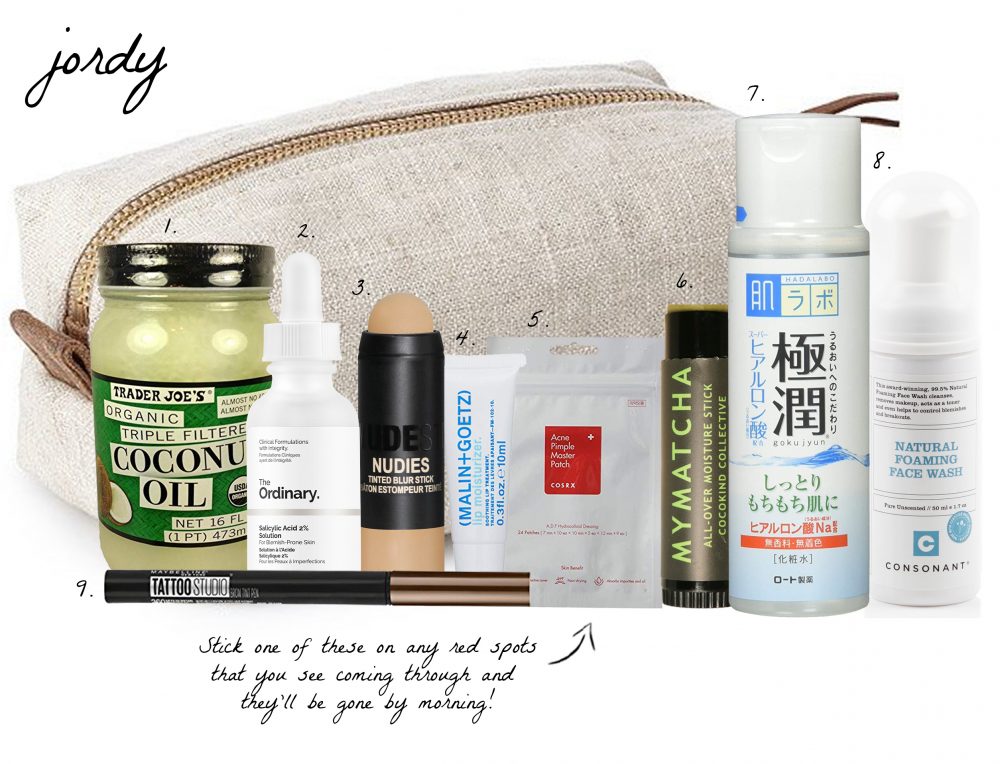 1. Coconut Oil: I use coconut oil as an allover moisturizer and this is the only one I've found that doesn't smell like coconut (which is amazing for me!).
2. Serum: This salicylic acid serum helps keep my skin clear – and it's under $6!
3. Tinted Blur: This product from NudeStix is a combo between tinted moisturizer and concealer – it has coverage but goes on sheer and is easy to blend. I love that it's a stick that can be applied without any brushes.
4. Lip Balm: This nourishing lip balm is fragrance, colour, and flavour free, so it doesn't irritate my sensitive skin and lips.
5. Pimple Patches: I stick one of these on any red spots that I see coming through before bed and I swear they're gone in the morning!
6. Matcha Stick: Another product that goes on easy. I keep it beside my bed and apply it under my eyes, on my lips, and on any dry spots before I go to sleep!
7. Moisturizer: This hyaluronic acid has a super light consistency and a little goes a long way. I use it in the morning and at night and it's very hydrating. It's easy to layer on before other oils and lotions and works well under makeup! You won't be able to read the label but I saw a Japanese beauty blogger raving about it years ago and her skin was flawless so I was "influenced".
8. Face Wash: I love this cleanser because it removes all my makeup and cleans my face without drying out my skin.
9. Brow Pencil: This product is my key for quick, natural looking brows. It's easy to use and stays put all day. I use the medium brown.
What's the one product you can't live without? Let us know in the comments!