Gift Guide: For The Homebody
December 7, 2018
In Toronto, everyone has the tendency to turn into a bit of a homebody during the winter. Let's face it – staying in is an easy pick over spending time out in the chilly weather or packed malls. Everyone has a friend who would choose staying home over going out (both of us are total homebodies no matter the weather) and we've rounded up our favourite items to make staying home extra cozy!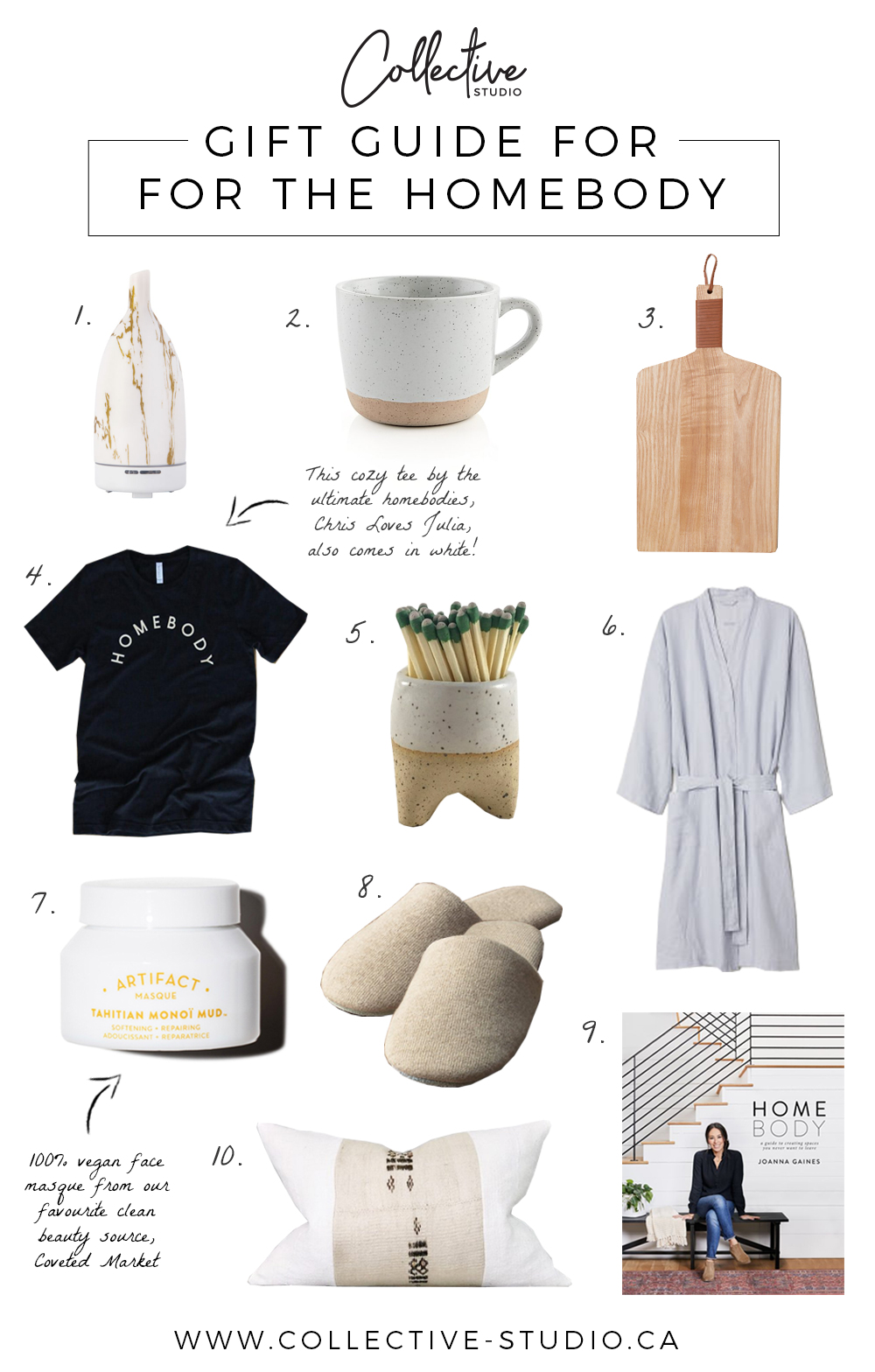 1. Diffuser: Our favourite diffuser from the Canadian company Saje. We love their "Liquid Sunshine" and "House Warming" oil blends. 
2. Ceramic Mug: It feels expensive and handmade, but this mug is really just over $10. Pair it with coffee or tea to make an affordable present for a gift exchange. 
3. Wooden Board: A rustic wooden cutting board with masculine details that doubles as a serving platter or cheese plate. Perfect for serving snacks during a movie night! 
4. Homebody Tee: This cozy tee by the ultimate homebodies, Chris Loves Julia, also comes in white.
5. Match Striker: This handmade Etsy find is both a match striker and holder. For the homebody that loves candles (and honestly – who doesn't!?). 
6. Washed Linen Robe: We love a good robe, and this one is perfect for both men and women. The washed linen feels light but cozy – great for layering over P.J.'s on a chilly morning.
7. Mud Masque: A 100% vegan face masque from our favourite clean beauty source, Coveted Market. It smells delicious and makes our skin super soft!
8. Cashmere Slippers: Nothing feels more special than cashmere. These slippers are so cozy that you'll want to stay home just so you don't have to take them off.
9. Homebody Book: A design guide and beautiful coffee table book from one of our favourites, Joanna Gaines.
10. Pillow: We love Etsy shop Cloth And Main's collection of artsy, vintage-inspired pillows. These pillows add warmth and texture to your living room or bedroom and are all handmade in Canada.