Gift Guide: For The Chef
December 5, 2018
The gift guide for the foodie in your life. Whether they're a professional chef or a passionate home cook, they're sure to be impressed by anything on this list. These picks all simplify cooking and prep, and look great doing it. We'd love to see any of these items in our own kitchens after the holidays!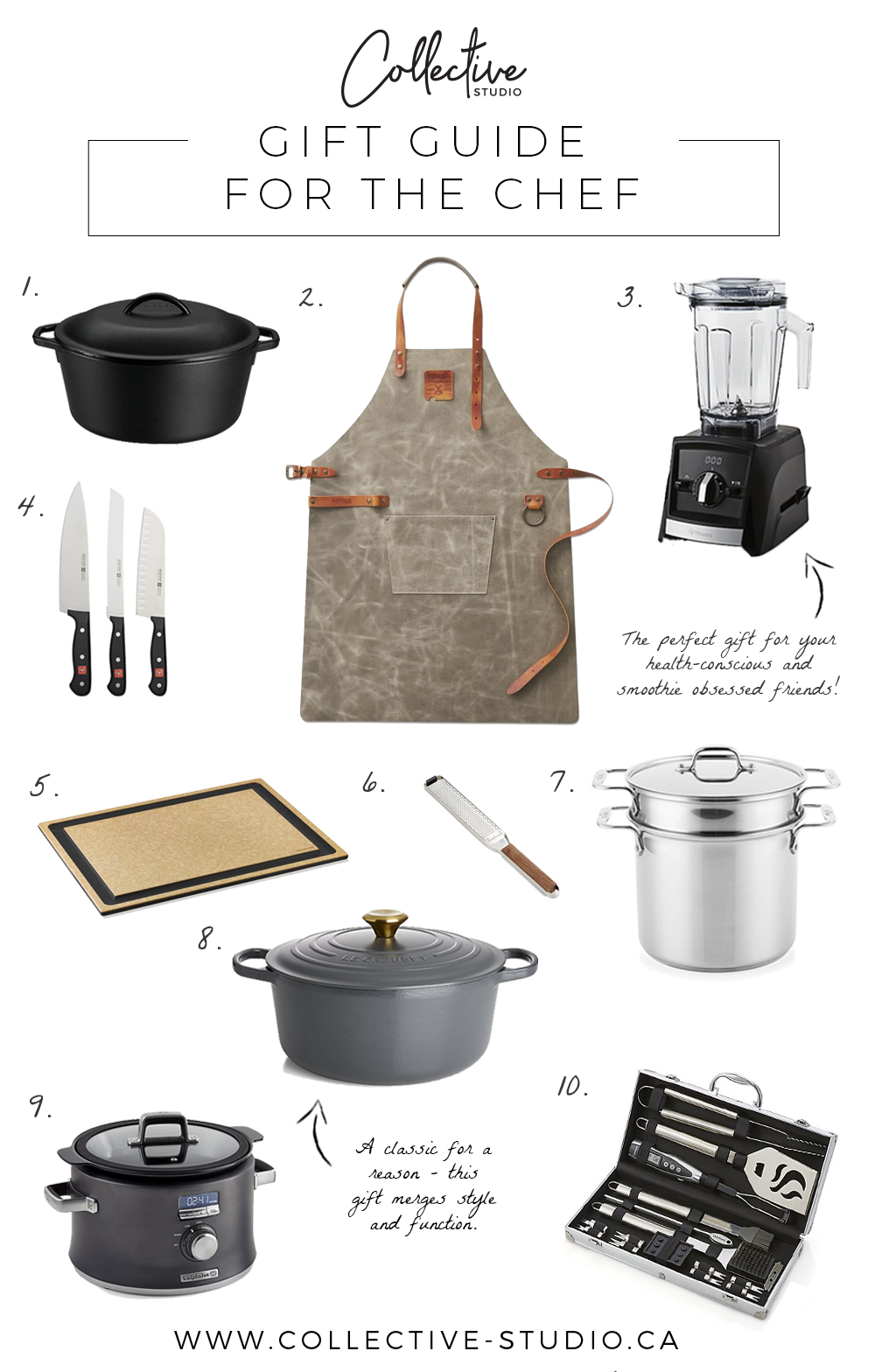 1. Cast Iron Pot: Understated and sleek, this cast iron piece will become your go-to for both cooking and serving.
2. Apron: This handcrafted leather apron's large front pocket has plenty of room for utensils, making it the perfect gift for anyone who loves to grill.
3. Vitamix: This Vitamix perfectly blends everything from smoothies to dips. Consider gifting one to your friends who are new parents – it can even make baby food!
4. Knives: Good knives are a must-have for anyone who spends time in the kitchen. This 7-piece set offers variety and durability.
5. Cutting Board: Bacteria-resistant and easy to clean, this cutting board makes holiday meal prep a little less stressful.
6. Zester: Perfect for adding citrus for holiday dishes (and cocktails!). The wooden handle makes it easy to grip and keeps fingers away from the sharp blades.
7. Pasta Pot: Cook enough pasta for the whole family in one pot. Plus, the basket insert is great for preparing quick steamed veggie sides.
8. Le Creuset: Although pricey, this Le Creuset Dutch-oven will last a home chef a lifetime if cared for properly. It's compatible with any stove or oven, heats food evenly, and comes in a rainbow of colours.
9. Crockpot: The perfect meal-prep tool that will see you through the holidays (and into January when you feel like you can't spend another minute in the kitchen).
10. Grill Set: BBQ season might feel like a distant memory in Toronto, but it's never a bad time to receive this grill set.
What's your most-loved kitchen tool? Let us know in the comments!