Gift Guide: For The New Mom
December 11, 2018
As far as we're concerned, few people deserve to be spoiled more than new moms. They've got to deal with a lot – from no sleep to major hormonal and physical changes – all while figuring out how to raise a little human (or, in Jordy's case, two – she welcomed twins just last month!). We picked these gifts to help the new moms in your life feel energized, save time, and get some much-needed relaxation.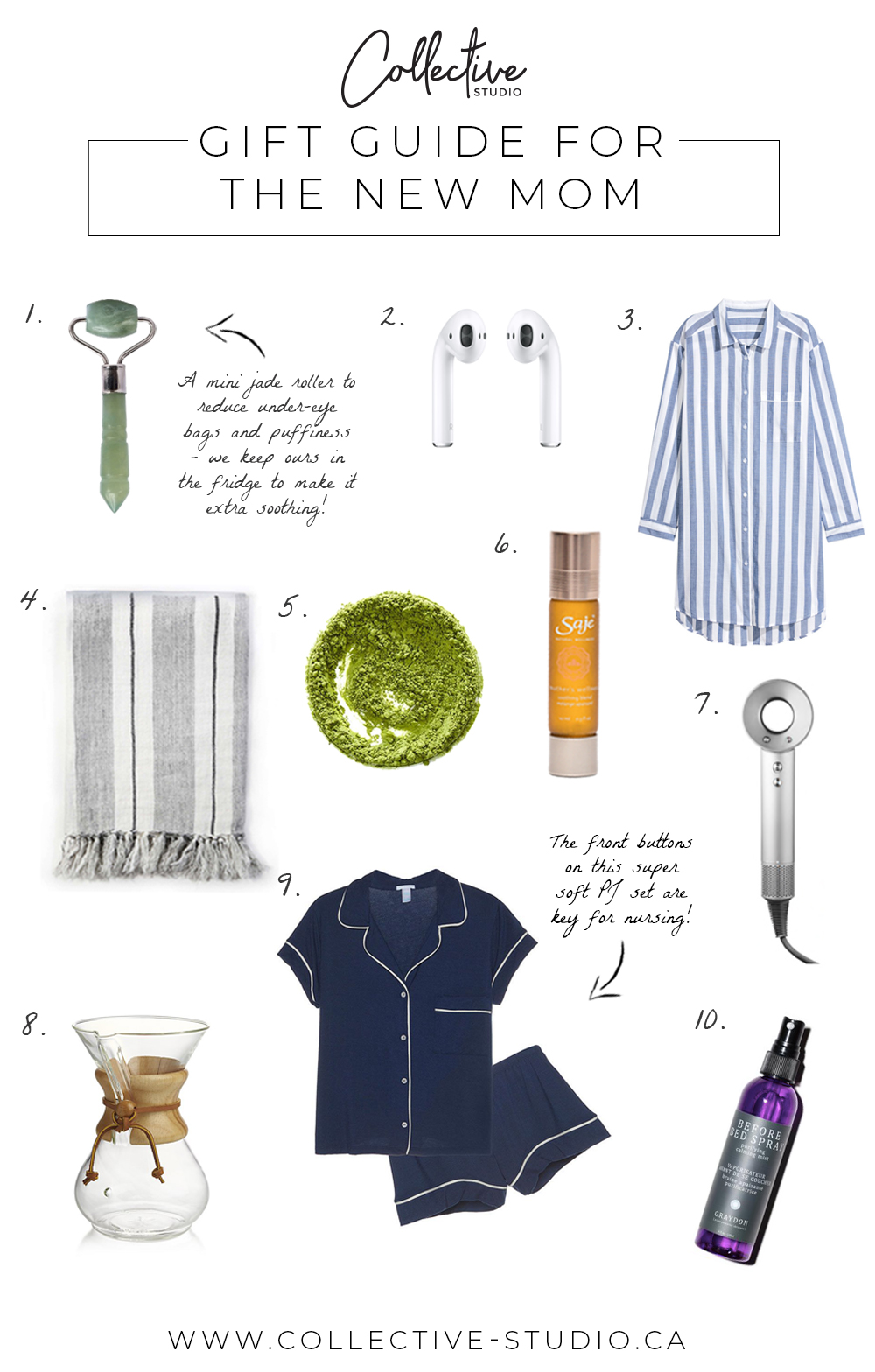 1. Jade Roller: A mini jade roller is perfect for reducing under-eye bags and puffiness. We keep ours in the fridge to make it extra soothing!
2. AirPods: Wireless headphones are a must for new moms – no one wants to deal with tangled cords when you already have your hands full. Perfect for talking on the phone or listening to podcasts when you're on the go.
3. Night Shirt: If she's going to be up all night, at least you can help make sure she looks cute in the process!
4. Blanket: This wool blanket is perfect for curling up on the couch, in the nursery, or anywhere she can catch a few minutes of sleep.
5. Matcha: Matcha has about half the amount of caffeine as coffee, but it's also high in immune-boosting antioxidants and vitamins.
6. Mother's Wellness: This essential oil blend can be used in the bath or applied directly to the skin. It combines soothing lavender and chamomile with uplifting citrus – a perfect combo for new parents.
7. Blowdryer: This blowdryer from Dyson promises to dramatically reduce the time it takes to dry hair – important for a new mom who's already short on time. Plus, it's super quiet!
8. Chemex: The necessity of coffee is self explanatory, and this Chemex turns brewing a morning cup into a simple but luxurious ritual.
9. PJ Set: The front buttons on this PJ set are key for nursing – and they actually get softer with washing and wear.
10. Before Bed Spray: Spritzing pillows with this lavender-infused spray helps set the tone for a restful night and can also improve sleep quality.