Trends: Nursery Decor
March 6, 2019
Fun fact: before we merged and founded Collective Studio, our original plan was to focus exclusively on nurseries and we dreamed of opening a storefront that sold nursery decor and furniture. So, needless to say, we love a good nursery project!
Designing a nursery is special for obvious reasons, but it's also a great opportunity to have fun with your design choices. You can get away with a lot more here than you can in other rooms in your home, and it's a chance to not take it all so seriously. That being said, you'll also be spending a lot of time in this room, so you want to make sure it feels calm and comfortable for both you and your baby.
As we've mentioned before, a nursery is also a room that you'll likely have to update pretty frequently as your child grows. That's why we love to keep the key pieces in the room timeless, but add in lots of playful accessories. There are so many adorable nursery pieces available everywhere from Etsy to Target, so we've put together a few of our picks below!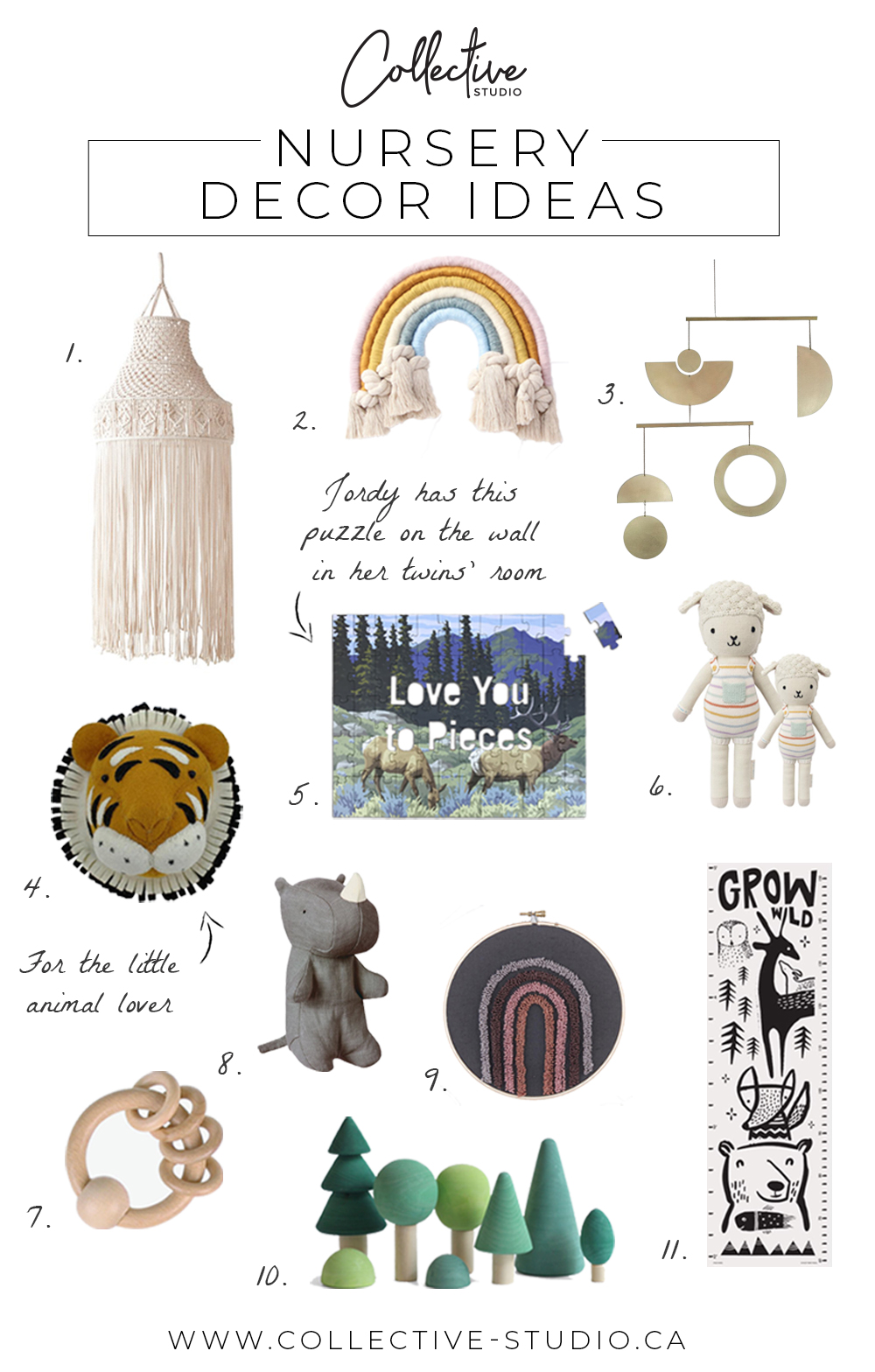 1. / 2. / 3. / 4. / 5. / 6. / 7. / 8. / 9. / 10. / 11.
For some more inspiration, we've broken down our favourite trends for nursery accessories below:
Art: We love adding unexpected and textural pieces of art to nurseries. The macrame, rainbow, and needlepoint pieces above are all great examples. You can find lots of affordable options on Etsy – plus, you're often able to customize the pieces. Jordy ordered a custom, gender-neutral fiber rainbow piece by the artist who made the one above for her twins' nursery!
Animals: Another trend we're loving is animal themes. Kids love animals, so this one is a no-brainer. One of our favourite ways to have fun with this one is by adding a stuffed-animal head on the wall. Alana chose an adorable pink flamingo head for her daughter Ari's room (check out our post on that space here), and we love the tiger piece above!
Minimalistic Toys: Let's face it – your kid's toys are going to end up all over your house, no matter how hard you try to keep them organized. Thankfully, there are toys available today that are a far cry from the ugly neon plastic ones we grew up with. For example, the rattle, forest set, and mobile above are sleek, minimalistic, and actually look beautiful displayed in a room. When designing a nursery, we look for pieces that are made from natural materials – for example, linen for dolls or wood for toys – in neutral, soft colours.
Which trend would you like us to feature in our next post in this series? Let us know in the comments!