Get The Look: Project Woburn - Ari's Bedroom
February 19, 2019
Today we're showcasing an extra special project: the bedroom we designed for Alana's daughter, Ari. We get so many questions about this room each time we post photos of it on social media that we decided it deserved it's own post. Keep reading to find out how you can recreate Ari's sweet and whimsical style in your own home!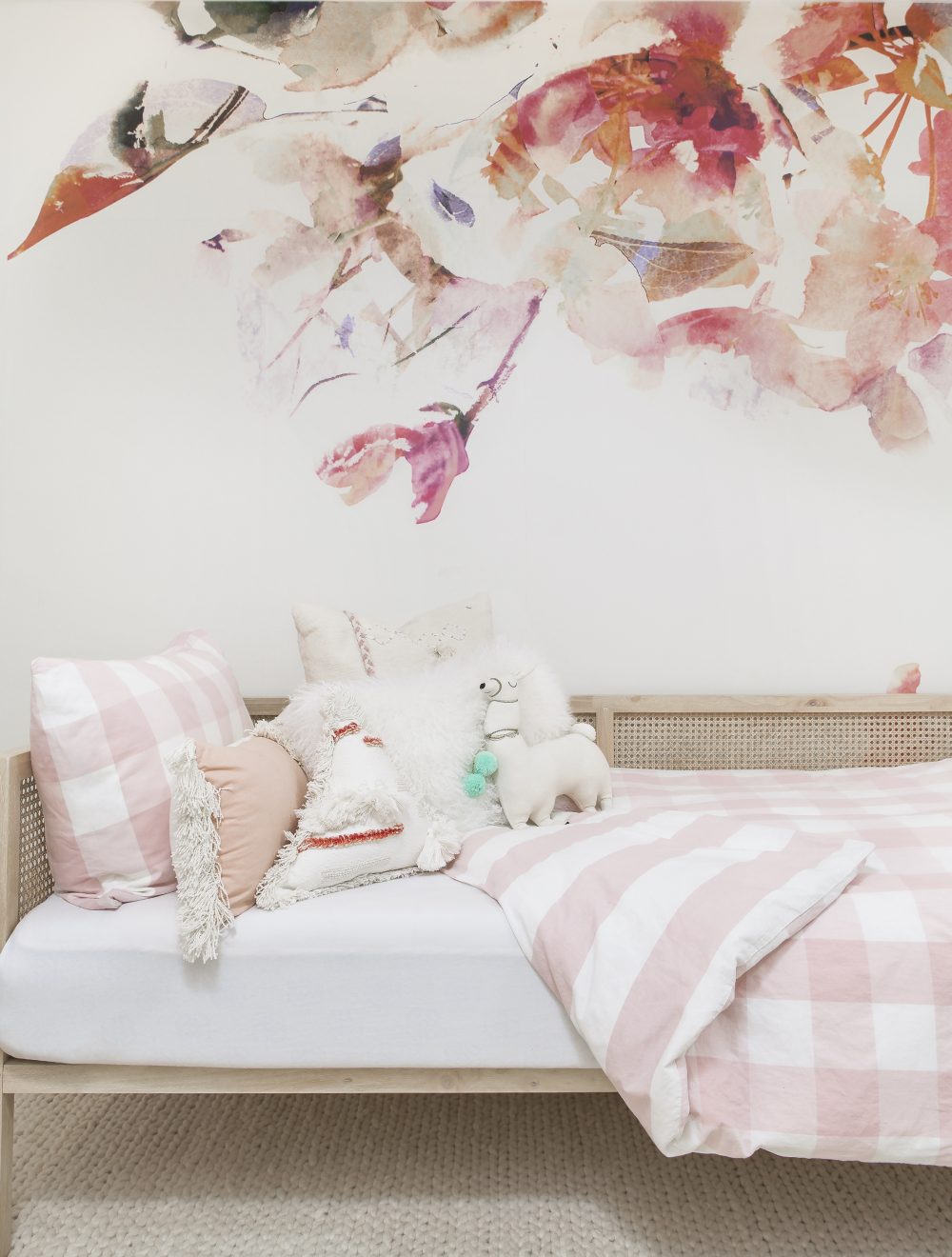 We originally designed this room as Ari's nursery. The style is transitional enough that pretty much everything has remained the same as Ari's grown, except for trading out her crib (this one) for a bed. Rather than choose a bed specifically designed for kids, we chose a day bed from CB2 – it looks age appropriate, but it's also chic and can be easily used in other rooms of the house once Ari outgrows it.  It's always a good idea to save on bedding for kids so you can replace it if needed, and we love the pink and white set we found from Ikea. You can find similar throw pillows on Etsy by searching for "handwoven pillows" – one of our favourite shops is Cloth and Main.
Kids' bedrooms and nurseries are some of our favourite places to have fun with wallpaper, so we knew we wanted to incorporate it into the design for Ari's room. We chose a beautiful floral mural from Anewall for the wall behind the bed. The wallpaper is available in custom sizes (as are all of Anewall's designs) so it frames the bed and fits the wall perfectly.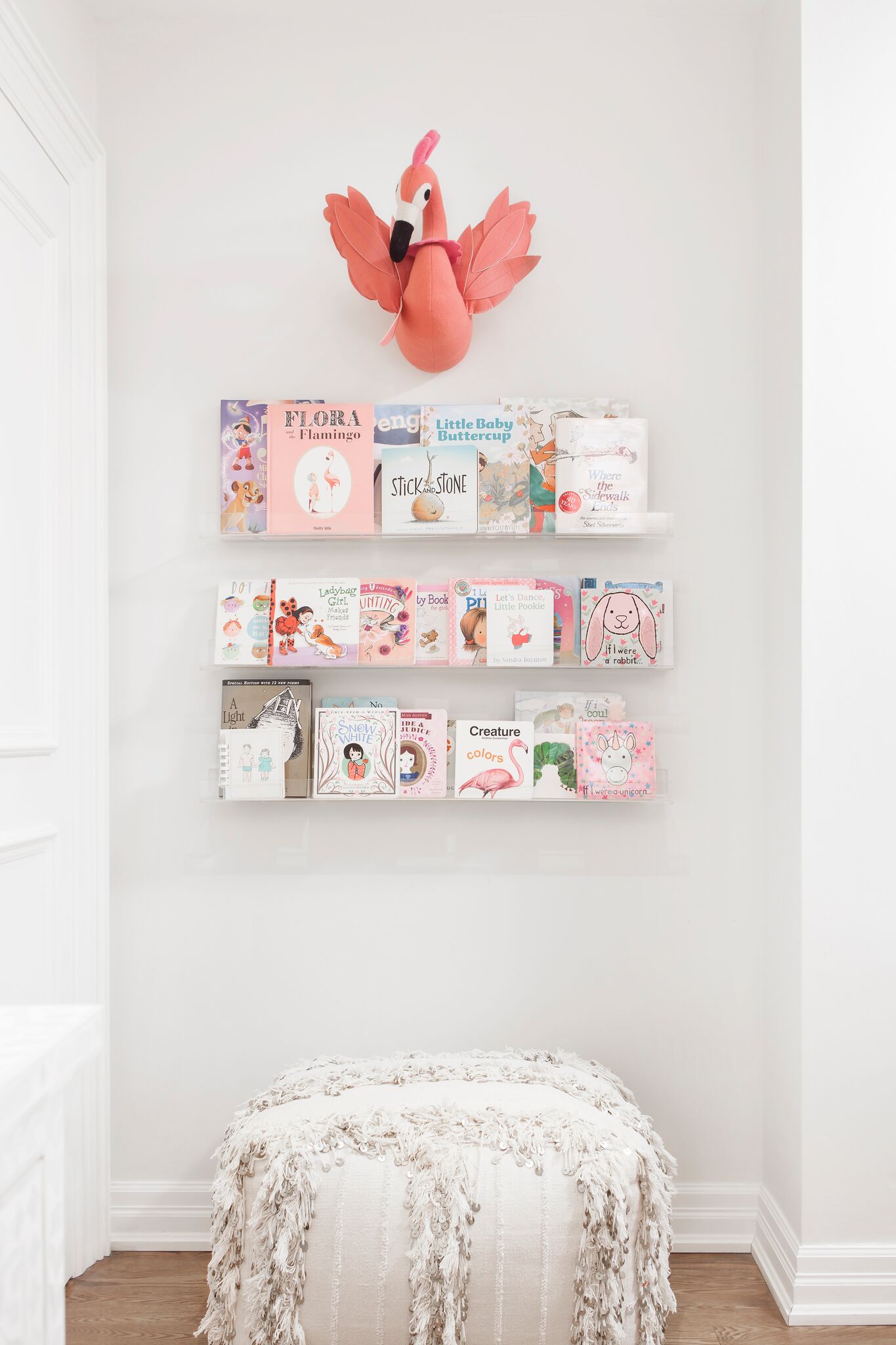 We're obsessed with this section of Ari's room. The flamingo piece is such a great Target find – as soon as we saw it we knew we needed it for this room. It's such a playful and unique addition to the space!
The clear acrylic shelves from CB2 are such a great alternative to a traditional bookcase – they save so much space and are a great way to showcase adorable book covers. To recreate this look, display books that have covers in similar colours and that complement the colour scheme of the rest of the room.
The "Moroccan wedding blanket" pouf adds texture and sparkle, but it's neutral enough that it can work with pretty much any colour scheme (important to consider when buying furniture for kids' rooms, as the colours may change as they get older).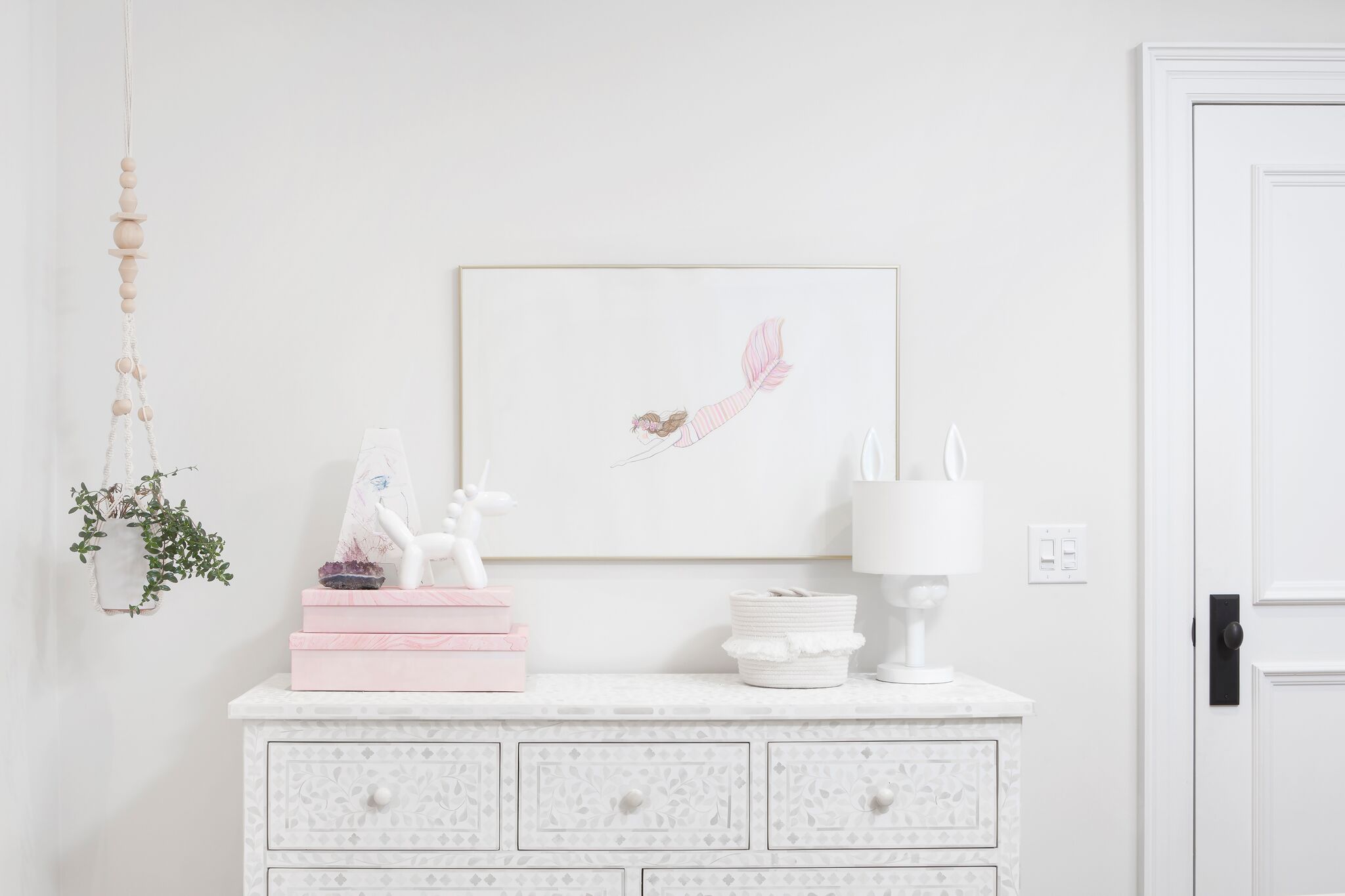 A dresser is often one of the pricier pieces you'll buy for a bedroom, so it's worth investing in one that's timeless and high quality. The bone inlay dresser we chose isn't available anymore, but a similar one is included on our board below. The style is classic and feminine, and it's sure to be a piece that Ari will love at any stage.
We wanted to keep this wall pretty neutral in contrast to the bold wallpaper wall. The white bunny lamp and unicorn 'balloon animal' piece are a subtle play into the room's animal theme. Ari also has a love for mermaids – the artwork is a custom piece by artist Lisa Chow that we had framed by On The Wall.
We added in small touches of colour with pink stackable boxes and the plant. Adding in a hanging planter is a unique (and relatively low maintenance) way to add greenery into a bedroom. The one in Ari's room was an Ikea find, but similar ones are available on Etsy (including the one on the board below).
We absolutely love how this room turned out – it's truly the sweetest space and we hope it inspires your own designs. We've put some of our favourite pieces inspired by Ari's room together to make it even easier for you to get the look!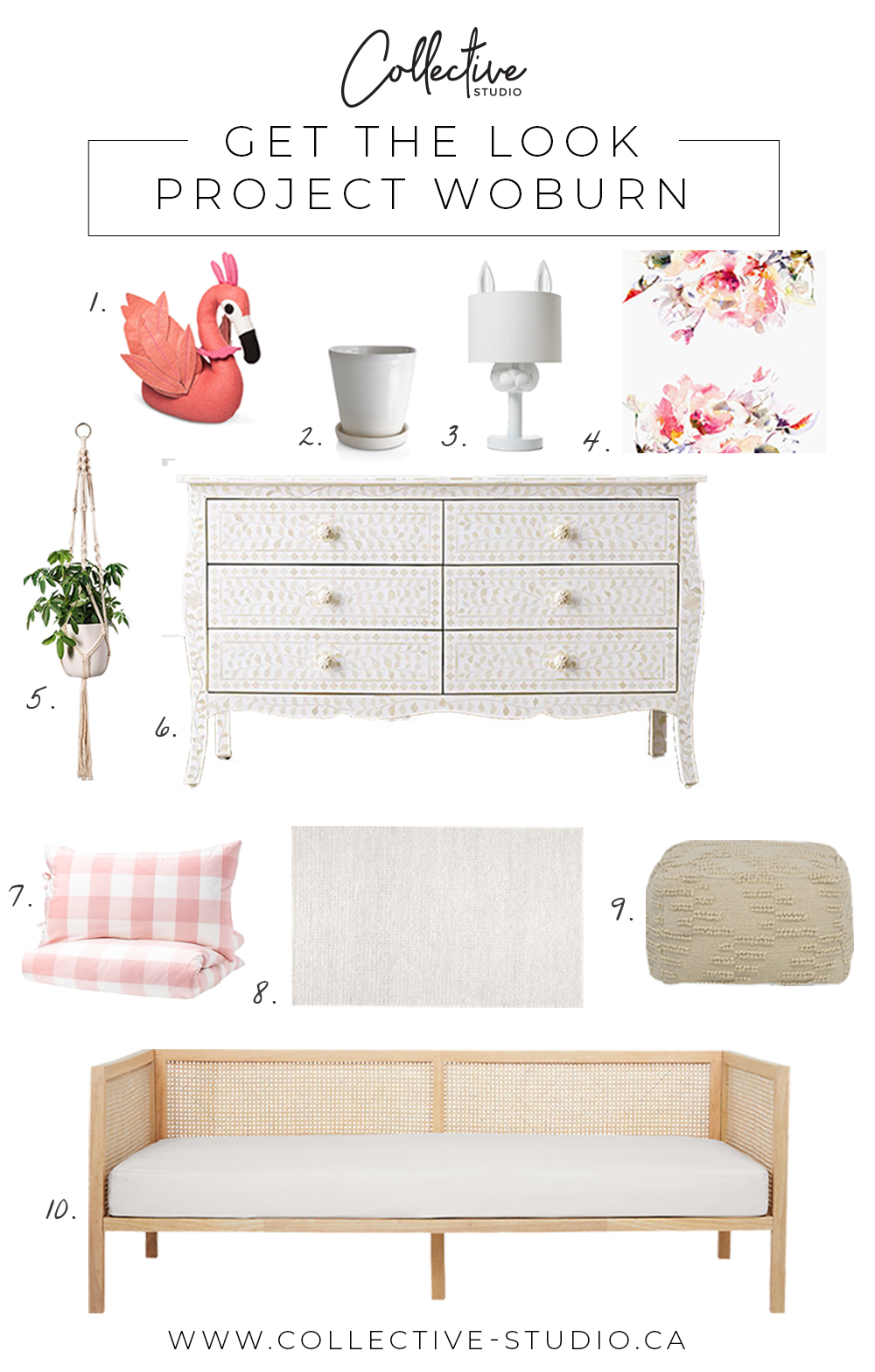 1. / 2. / 3. / 4. / 5. / 6. / 7. / 8. / 9. / 10.
Which of our projects do you want to see featured in our Get The Look series? Let us know in the comments below!