Jordy's Laundry Room
July 8, 2019
This post has been sponsored by Whirlpool Canada however all opinions are my own.
Today we're shining a spotlight on one of the most-used rooms in my (Jordy's) home: the laundry room! If you've been following us for a while, you'll likely know that I recently designed and renovated my entire house (you can check out #ProjectRushton on Instagram to see more photos – we still have lots to share!). What you might not know is that in the thick of our reno we found out that I was pregnant with twins who arrived in November. When we welcomed the twins our family literally doubled in size – meaning we suddenly had double the stuff (and things got a lot messier!). We went from doing maybe 1-2 loads of laundry a week to doing multiple loads a day, and from the minute we brought them home it was evident that laundry would become a major part of my life for the foreseeable future.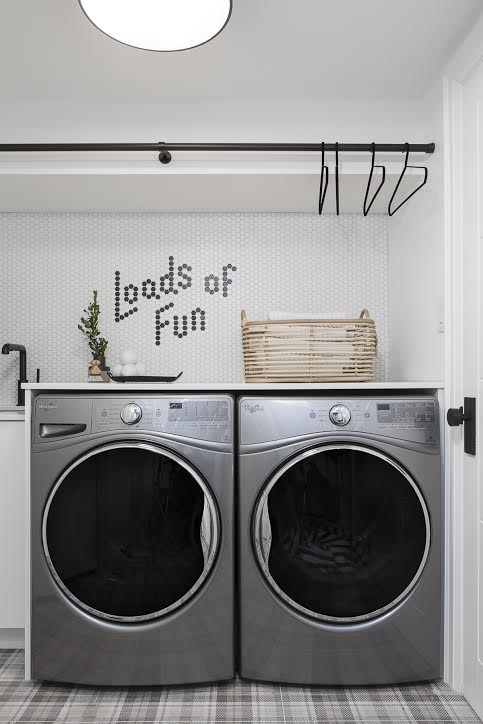 Since it was clear I was going to be spending a considerable amount of time in my laundry room, I decided to embrace it and turn it into a space that actually brings me joy. A few weeks after the twins came home I kicked my plan into high gear and finally finished the laundry room that I had been planning for before their surprise early arrival. The playful tiles (I am very proud of that pun/play on words), plaid floors, and modern matte black hardware make this room flow with the rest of the house and feel airy and bright. I also made sure to include a built-in folding station and a large shelf for storage. This renovation was such an improvement from the how the room was when we moved into our house – check out the "before" below and you'll see why I was so eager to get this project done!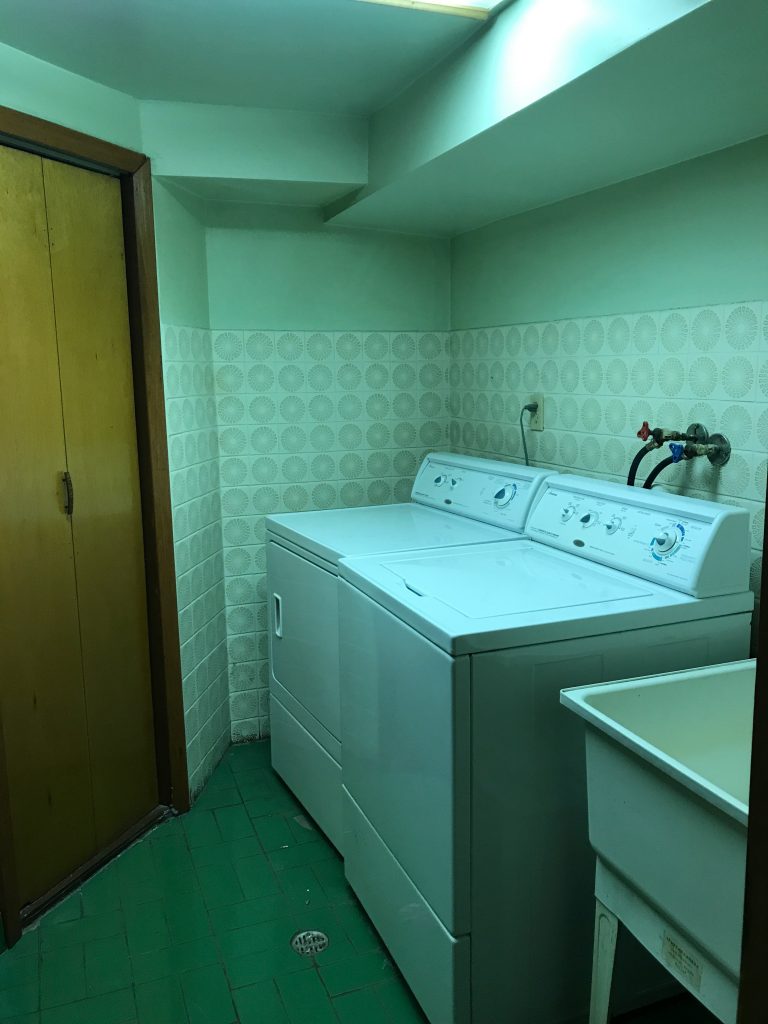 As a designer, it goes without saying that I was very specific about what I wanted in my home #MyOwnWorstClient. One of the best perks of my job is that I get to hear directly from my clients about what works for them in their own homes – after years in this business, we've heard hundreds of comments on everything from paint brands to TV's to appliances… but when it came to choosing a new washer and dryer, I knew I was going to go with Whirlpool, after hearing only rave reviews!
Once again, our clients proved that they know what they're talking about! Firstly, the capacity of my new Whirlpool washer and dryer is amazing, meaning I can get away with doing fewer loads. On days when I need to do multiple loads, the Load & Go system simplifies the whole process – it allows you to pre-fill the detergent in the bulk dispenser so you don't have to worry about remembering to refill in between wash cycles (this also comes in handy when I am busy with the kids and ask my husband to help with laundry – instructions went something like this "throw in the clothes and press start"). Between mealtimes and spit-up, things can get messy quickly, so this feature is super helpful when I need to get something in the wash ASAP. The machine will automatically dispense the right amount of detergent based on the load size, too, so you don't have to worry about waste! We also used the "Quick Wash" cycle a lot when they were tiny preemies with tiny onesies.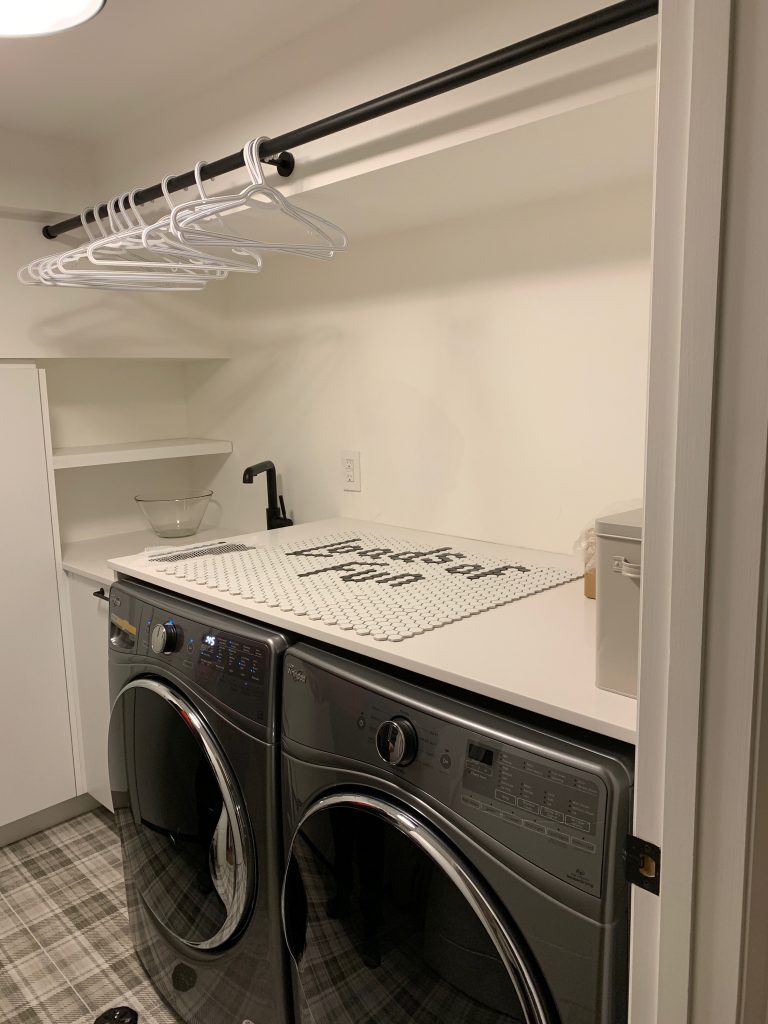 The washer also has a FanFresh feature – basically, a fan is automatically activated after your load is done so that your clothes stay fresh for up to 12 hours. This is genius – it completely saves you if you're like me and sometimes can't get to a load of laundry the minute it's done because your hands are full or you just forget (happens to the best of us, mom-brain or not!). Now I don't have to stress about getting the clothes into the dryer right away or needing to rewash the entire load – my laundry will still be fresh when I have the chance to get to it.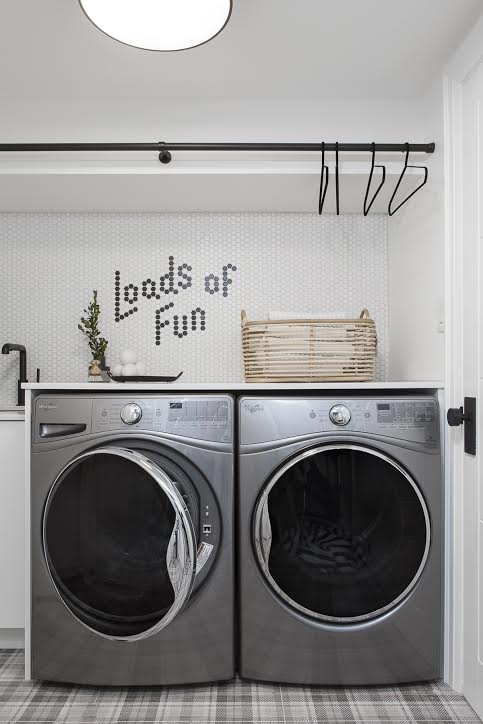 Same goes for the dryer's Wrinkle Shield feature – it uses steam to prevent wrinkles from forming in your clothes so that you don't have to worry about folding your dry laundry right away. We are a no iron household now and it's amazing. This will be super helpful as the twins get older and it's made a huge difference in how our clothes look when they come out of the dryer. We've all seen the memes about laundry being a breeze until you need to fold it.
As I'm sure any other moms can relate to, I typically can only get to chores and housework once my babies are asleep. So, it goes without saying that the appliances we have need to be seriously low on noise. Whirlpool's Stainless-Steel Dryer Drum with Sound Dampening Technology makes the machine run super quietly and even helps muffle the sound of tumbling metal zippers and buttons, so I can get my laundry done without waking the twins.

I'm a big believer that your home should make your life easier and my new laundry room has reaffirmed that belief. I couldn't be happier with my Whirlpool washer and dryer – they not only look great and fit in with my home's design, but the features on these machines have been game changers as a new mom.
I can't wait to share more of my home with you all – let us know which room you'd like to see next in the comments!